We are a sustainable fashion  planner based in Tokyo.  the company was Founded by our ceo, Hiroshi Yamashita; with a vision to change the direction of fast fashion in japan to a more conscious and sustainable industry. Since the inception, our company has been in the forefront working with sustainable materials and partners in creating synergies in the Japanese fashion market.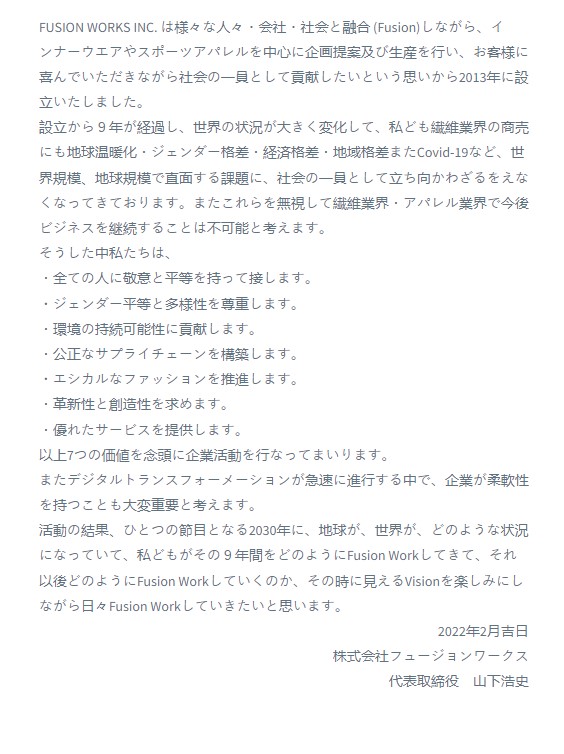 FUSION WORKS INC. は様々な人々・会社・社会と融合 (Fusion)しながら、イ
ンナーウエアやスポーツアパレルを中心に企画提案及び生産を行い、お客様に
喜んでいただきながら社会の一員として貢献したいという思いから2013年に設
立いたしました。
設立から9年が経過し、世界の状況が大きく変化して、私ども繊維業界の商売
にも地球温暖化・ジェンダー格差・経済格差・地域格差またCovid-19など、世
界規模、地球規模で直面する課題に、社会の一員として立ち向かわざるをえな
くなってきております。またこれらを無視して繊維業界・アパレル業界で今後
ビジネスを継続することは不可能と考えます。
そうした中私たちは、
・全ての人に敬意と平等を持って接します。
・ジェンダー平等と多様性を尊重します。
・環境の持続可能性に貢献します。
・公正なサプライチェーンを構築します。
・エシカルなファッションを推進します。
・革新性と創造性を求めます。
・優れたサービスを提供します。
以上7つの価値を念頭に企業活動を行なってまいります。
またデジタルトランスフォーメーションが急速に進行する中で、企業が柔軟性
を持つことも大変重要と考えます。
活動の結果、ひとつの節目となる2030年に、地球が、世界が、どのような状況
になっていて、私どもがその9年間をどのようにFusion Workしてきて、それ
以後どのようにFusion Workしていくのか、その時に見えるVisionを楽しみにし
ながら日々Fusion Workしていきたいと思います。
    2022年2月吉日
株式会社フュージョンワークス
代表取締役 山下浩史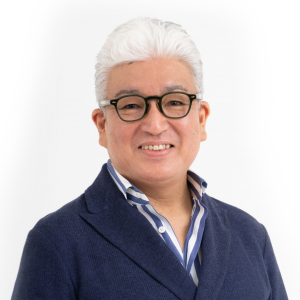 "To become the go-to fashion planner in providing socially conscious sustainable clothing options for Japan"
Our mission is to provide best-value products to enhance the quality of life of users by promoting inclusive and sustainable clothing at a competitive price while help making a positive socioeconomic impact as a responsible corporate citizen of japan.